BIOGRAPHY - JOHN GILKESON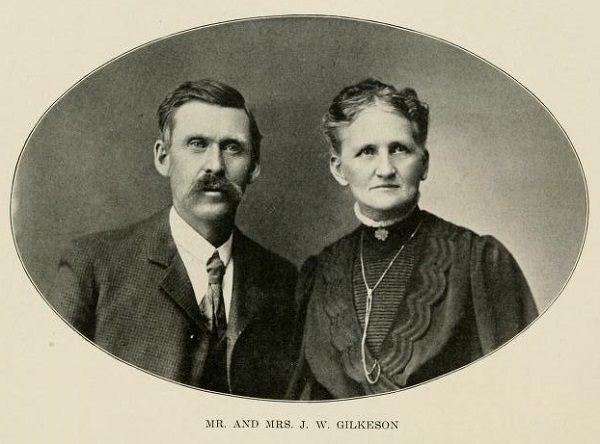 John W. Gilkeson is serving for the fourth term as a member of the county board of supervisors and his official record is one which has ever reflected credit upon himself and at the same time has proven highly satisfactory to his constituents He is, moreover, known as one of the enterprising farmers and extensive stock-dealers of the county, making his home upon an excellent farm of two hundred and forty acres in Wall township.
He was born in Marshall county, Illinois, August 11, 1854, of the marriage of William B. and Cecelia (Lytle) Gilkeson. The father was born in Missouri in 1830, representing an old family of that state. He was two years of age when his mother (his father having died) removed to Peoria county, Illinois, where he was reared. When a young man he went to Marshall county, this state, where he married Miss Cecelia Lytle. At the time of the Civil war he espoused the Union cause and served for one year with the boys in blue at the front. In 1867 he removed to Ford county, Illinois, where he carried on general farming for about twenty-two years and in 1889 he took up his abode in Chicago, where he has now made his home for nineteen years. Unto him and his wife were born five children, of whom four are living: Thomas, of Battle Creek, Michigan; Mont, who makes his home in Yorkton, Canada; Morris, living in Iroquois county, Illinois; and John W., of this review.
The last named spent his boyhood and youth in the usual manner of farm lads, acquiring his education in the district schools. The father being in ill health much of the time after his return from the war, the work of the farm largely devolved upon the son, who from the age of eleven years has led a most active life. Prosperity awaited him but the future was not revealed to the boy, who had to work hard in order to improve the farm and thus aid in the maintenance of the family in those early years. It is only through the stimulus of adversity that the best and strongest in man is brought out and developed and this early training brought forth in Mr. Gilkeson a strong manhood and a self-reliant character. At the age of twenty-one years he started out in business life on his own account as a farmer. For two and a half years he rented land and did his own housekeeping.
In October, 1878, however, Mr. Gilkeson secured a companion and helpmate for life's journey through his marriage to Miss Mary McClelland, of Iroquois county, Illinois. He brought his wife to the farm which he was then renting but which he purchased the following year, becoming owner of eighty acres. They practiced economy as well as industry and in 1885 were enabled to purchase an adjoining tract of eighty acres, while in 1903 the boundaries of the place were further extended until the farm now includes two hundred and forty acres of productive and valuable land, situated on section 13, Wall township. This is one of the best improved farms in the county, lacking in none of the accessories and conveniences of a model property. For years past Mr. Gilkeson has been extensively engaged in buying and selling of stock and is now one of the largest stock-dealers of this section, not only utilizing all the grain which he raises in this way but also buying extensively every year for feeding purposes.
Unto Mr. and Mrs. Gilkeson have been born three children: Myrtle, now the wife of Harry Marshal of this county; Charles Howard and Eugene, who are with their parents on the farm. The family are prominent in the community and their own home is justly celebrated for its gracious and attractive hospitality. Mr. Gilkeson is a member of Paxton Lodge, I. O. O. F., and of Lodi Camp, No. 1533, M. W. A. In politics he is a republican, recognized as one of the local leaders of his party. In 1887 he was elected town commissioner and filled the office so acceptably that he was continued therein for twelve consecutive years. He was then elected to the board of county supervisors and is now serving for the fifth consecutive term. In 1906, during the building of the courthouse, he was made chairman of the board of supervisors and the same year was made chairman of the building committee having in charge the erection of this new seat of justice. His business ability, his push and enterprise were manifest in the execution of the work and at all times in the discharge of his official duties he has displayed the same spirit of enterprise and determination which have characterized him in his business life. He is in the broadest sense a self-made man, being both the architect and builder of his own fortunes and has not only won a creditable and enviable position in business life, for in political circles as well honors have been conferred upon him. He enjoys in large measure the confidence and respect of his fellowmen and is distinctively one of the leading citizens of Ford county.
Extracted 16 Oct 2016 by Norma Hass from History of Ford County, Illinois, From Its Earliest Settlement to 1908, author E. A. Gardner, Volume 2, pages 676-680.