Newspapers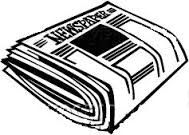 Gibson City Courier, 25 Jul 1918
FORTY MORE MEN TO GO NEXT WEEK.
ANOTHER CONTINGENT OF FORD COUNTY MEN TO BE SENT TO CAMP WHEELER.
Another contingent of Ford County men has been called to go to camp next week. Thirty-five men will leave Paxton next Thursday morning via the Illinois Central for Camp Wheeler, at Macon Georgia. Five men in the limited service class will be sent to Syracuse, NY for training between July 29 and Aug 2. The list follows:
George W. ADLINGTON, Melvin, Il
Hugh M. CONGER, Melvin
C. Edwin JOHNSON, Paxton
W.C. HOLMES, Melvin
Melvin E. RASMUS, Paxton
Edwin A. IOHL?, Melvin
John G. WESTMORELAND, Paxton
Carl A. ROWLAND, Gibson City
W. Shumwway LAMB, Gibson City
William H. STEINKE, Paxton
Louis KOFOID?, Elliott
HESNER? CHENOWETH?, Paxton
Amos? L. CARLSON, Paxton
Homer G. PRESTON, Gibson City
Edward A. NORDQUIST, Paxton
Earl G. GUY, Gibson City
Jesse T. REYNOLDS, Sibley
Theodore QUINLAN, Paxton
O.G. MOSER, Sibley
Raymond H. SPARKS, Melvin
Elmer E. MCKENNA, Melvin
Anthony SADLER, Cabery
Oscar E. KRASTS, Paxton
Frank J. PARADEIS, Cabery
Jacob P. ANDERSON, Sibley
Lester O. CRANE, Kempton
Albert A. HERR, Piper City
Jesse E. ZEH, Piper City
John GIDEON, Gibson City
John BLUM, Sibley
Gustaf M. LUNDAHL, Paxton
Thomas G. HARPTER, Gibson City
Harvey L. GUSTAFSON, Paxton
David M. SHARP, Melvin
Karl RODEEN, Paxton
ALTERNATES
Everett VAUGHN, Paxton
Jacob STROUSE, Paxton
Raymond M. VINSON, Paxton
TO SYRACUSE, NY
Wm. BOOMGARDEN, Piper City
Charles QUEEN, Clarence
Carl E. BEAGTSOM?, Paxton
Samuel R. KEEFE, Gibson City
Walter R. NELSON, Paxton
Transcribed and contributed by Gail Hahn Hutchcraft
Ford County Journal, Volume 1, Number 1, 24 November 1859
Paxton, Ford County, Illinois
By J. W. Scroggs & Co.

Business Cards
J. J. Sutton, dealer in Stoves, Tin ware, and miscellaneous hardware
H. C. Howard, M.D., physician and surgeon, office in S. P. Robins' store, Neil Street, 2nd door north of Church Street, West Urbana, Ill.
David Wingard, repairer of watches, clocks, jewelry, musical instruments, &c., first door south of Sutton's Hardware Store, West Urbana
D. B. Kator, M.D., Tolono, Illinois, devotes his whole time to the practice of medicine, office west of Judge Larmon's Land Office
A. E. Harmon, attorney and counselor at law, West Urbana, Illinois, office over the Cattle Bank, refers to Davis & Harmon, Danville, Illinois
I. O. of O. F. Vesper Lodge No. 231, meets at Union Hall every Saturday, at 7 1-2 P.M., J. N. Boutwell, N. G., H. T. Shivvers, Rec. Sec., West Urbana
Dentistry, Dr. Biddle, Dental Surgeon, has located permently in West Urbana, and established his office opposite the Doane House
M. L. Dunlap, proprietor of the Urbana Nursery, has for sale fruit and ornamental trees, plants, roses, evergreens, bulbous roots, etc., 23 West Urbana, Champaign county, Illinois

Administrator's Notice
Estate of Thomas Pricer, deceased, … [dated 21 Nov 1859], Daniel Benner, Adminstrator
Administrator's Notice
Estate of William Richardson, deceased, … [dated 21 Nov 1859], James D. Hall

Ads
Daniel S. Morse, agent for the Aetna & Illinois Mutual Fire Insurance Companies, Paxton
Nathan Simons, Clerk of County Court, Paxton, Ford County, Illinois, Office in Pells' Block, corner of Vermilion and Orleans Streets, will give prompt attention to the collection of debts
Scott House, J. W. Shilling, proprietor, Paxton
T. J. Tanner, Wholesale and retail dealer in lumber, sash, blinds &c., Paxton
John Hanley & Son, wholesale and retail dealers in lumber, Paxton
James F. Hall, architect and builder, all kinds of carpenter and joiner work, … office in James Buck's warehouse, near the Depot, Paxton
Cloyes Brothers, dealers in dry goods, groceries, boots and shoes, hats, caps, &c., Paxton
Henry Barnhouse, dealer in dry goods, groceries, boots and shoes, hats and caps, &c., Paxton
Dr. P. Myer, dealer in drugs, medicines, paints, oils, glass, dye-stuffs, Paxton
C. W. Oakley, will furnish the best of Illinois coal at $4.75 per ton, Paxton
D. A. Fredericks, dealer in grain and produce, Paxton, … salt … flour
Daniel S. Morse, attorney and counselor at law, Paxton, …
E. Andrews, dealer in groceries and provisions, Paxton
Pells, Britt & Murdock, general land agents, Paxton …
Samuel Day, Circuit Clerk & Recorder of Ford, … Paxton
J. F. Nicholson, painter, Paxton, …
William Daniels, architect and builder, Paxton
James Buck, forwarding & commission merchant, Paxton
Dr. S. H. Birney, physician and surgeon, Paxton, …
City Hotel, Benjamin Stiles, proprietor, Paxton
J. C. Randolph, M. D. physician & surgeon, Paxton
L. B. Farrar, M. D., physician and surgeon, Paxton

Sad Accident. Last Friday night the fireman of one of the freight trains going north fell from the cars near Tolono, and was so injured that before he was taken up life was extinct. His name, we understand, was Emory Hardy. In his pocket was found a silver medal upon which was engraved 'My mother's gift for truthfulness.' An inquest was held, and a verdict of 'accidental death' returned. We are informed by good authority that the engineer of the train has been discharged for want of diligence in going to his assistance after his fall. This is all as it should be.

List of Ford County Grand Jurors, for the Nov. Term, A. D. 1859
James P. Batton, Richard Bryan, Matthew Elliott, John Dopps, Sr., Milton Streyer, William Bryan, Obadiah Campbell, Bobert Eggleston, Sidney Morgan, Peter VanAntwerp, Solomon Burt, Robert Hall, John Buel, James F. Hall, Leonard Balls, James D. Hall, Lysias Carbly, Joseph Kendall, John S. Brown, Nathan Scovell, Leander Britt, William Newland, John P. Day.

Petit Jurors.
Archibald McKinney, Jacob Titus, John R. Lewis, William Reed, Henry Atwood, Harmon Streyer, L. W. Hackle, Jacob Tanner, John Swinford, Jacob Heary, Dennis Hopper, Edmund Hagin, Francis McHarry, Patrick Tarpy, John Richardson, William Pollock, Charles Wall, Paul W. Covely, Milton Myndard, Aranthus E. Scovell, Seth F. Simonds, Isaac Hall, Charles Cloyes, Benjamin Farris.

County Officers
David Patton, County Judge
William Swinford, Associate Judge
Andrew J. Bartlett, Associate Judge
Nathan Simons, County Clerk
Samuel L. Day, Circuit Clerk
Howard Case, Sheriff
Wheeter Bently, Coroner
James W. Campbell, Surveyor
Wm. W. Blanchard, School Commissioner
John P. Day, Treasurer

Educational - We congratulate our fellow citizens upon the possession of our neat and commodious school house. We consider that they have made an excellent beginning, and that with proper exertion in the future, they will succeed in building up educational facilities that will greatly add to the attractions of our young and growing community. In securing the services of Mr. Amyx and lady, we have placed our school enterprise in skillful and experienced hands. Mr. Amyx has devoted his entire time and energies to his business for years, and built up an enviable reputation as a teacher in Ohio. …

Administrator's Notice.
Estate of Ann Adams, deceased. … late of the county of Ford … [dated 03 Nov 1859] William Trickle, Adm'r. Nathan Simonds, Clerk of Court.
Ford County Journal, Volume 1, Number 2, 1 December 1859
Communicated.
The County Court of Ford County has changed the name of Prospect City to that of Paxton, in honor of Sir Joseph Paxton. Paxton is the county-seat of the county of Ford, and is situated on the Illinois Central Railroad 103 miles south of Chicago, 25 miles north of Urbana, 48 miles east of Bloomington, 45 miles northwest of Danville, Ill., and 67 miles west of Lafayette, Ind., and is in the midst of one of the best agricultural regions in the Union.

Ten Mile Grove is situated 2 1/2 miles west of us. Around this grove there is an old settlement, and the lands are in a high state of cultivation; on some of them there are old apple orchards. From this grove we get the best of building timber, fence posts, and wood at $2.50 to $3.00 per cord.

West of Ten Mile Grove flow the head waters of the Sangamon, on which is situated Drummer's Grove and Cheeny's Grove. There are some two hundred and fifty families settled in and around Cheeny's Grove, which was first settled some thirty years ago. The lands around this grove are in a high state of cultivation; on many of the farms you will find apple orchards and other fruits. All this country, and all that intervening, must pay tribute to Paxton, as it is the nearest railroad town, and freight on grain, cattle, lumber, salt, groceries, and all other heavy articles, can be carried 25 per cent cheaper to and from Chicago than from towns on the Chicago, Alton & St. Louis Railroad, as the distance is some thirty miles shorter to market. …

Too Much Fish. The notorious Bill Hibbard, of Danville, was sentenced on Tuesday last to one year's imprisonment in the Penitentiary for stealing a half barrel of whitefish. He took a change of venue from Vermilion to Ford County, but does not seem to have profited much by it.

Elegant Private Residence. Our fellow citizen Mr. Clark, formerly of Maine, has erected on the west side of the railroad a dwelling that is an ornament to Paxton, and would be to any other town in the state. It is finished in good style, with many of the modern improvements.

Good Hotel. We regard the Scott House, kept by our good friend Mr. Shilling, as an honor to our town. Mine host invariably includes all the delicacies of the season in his bill of fare, and the 'style' in which his table is kept up adds to the attractions of his fare. The Scott House has been crowded with guests from different portions of the country, during the sitting of the county court.

Holding of the Court. The first county court of Ford County was held at the City Hotel (adjourned to Hanly's Hall) in Paxton on Tuesday, November 29th, 1859, his Honor Judge Davis presiding. …
Ford County Journal, Volume 1, Number 3, 8 December 1859
Grand Jury. The Grand Jury have found some dozen bills of indictment against different violaters of the law. The only cases tried this term were the following: the People vs. Wm. S. Carter, for selling liquor contrary to law, six different counts; found guilty on one count. Presenting Attorney Lemon for the people, defendant for himself. I. W. Shilling was indicted for a similar offence, three counts. Verdict, 'not guilty;' Mr. Lemon for the people, Morse and Coler for Def't. The remainder of the people's cases were continued until next term.
Ford County Journal, Volume 1, Number 5, 22 December 1859
Theft: On the night of Monday the 12th instant, a fine hog was stolen from Mr. Alfred Bliss, who lives in the southern end of the county. Jerry King and Calvin Todd were brought before Esq. Ludlow on suspicion of being the nocturnal pork dealers. They both plead guilty. Todd gave bail for his appearance at the circuit court, and King went out by permission f the court for the purpose of procuring it, and finding no other gave leg bail, and has not since been heard from.
Ford County Journal, Volume 1, Number 6, 5 January 1860
Marriages. Forbes-Case. On the 28th ult., by the Rev. Charles Granger, Charles S. Forbes, to Sarah E. Case, only daughter of Howard Case, Esq., Sheriff of Ford county.

Taxes for 1859. Notice is hereby given that I will by myself or agent attend at the different Election Precincts in Ford County Illinois, for the purpose of receiving the State, County and Special School Taxes for the year 1859, at times and places as follows; At the house of Andrew Jordans, in Drummer Grove precinct, Jan. 19, 1860. At the house of John R. Lewis, in Stockton precinct, Jan. 21st, 1860. At the house of Sanford E. Marston, January 22d, 1860. At my office in Paxton during the month of February, 1860. Howard Case, Sheriff and Ex-Officio Collector for Ford Co., Illinois. Paxton, Dec. 27th 1859

Justice of the Peace. At the late election in Paxton for Justice of the Peace, occasioned by the resignation of Thomas F. Townsley, L. B. Farrar, Esq., was elected to the vacancy.
Ford County Journal, Volume 1, Number 7, 12 January 1860
Serious Accident. At Cloyes Bro.'s store in this village, on Friday afternoon last, J. A. Briggs met with a severe accident while scuffling with D. A. Fredericks; he slipped and was thrown in such a manner as to cause a slight fracture of the Fibula about two inches above the ankle joint. The fracture was reduced immediately by Drs. Randolph, Myer and Birney, who were in attendance and intend he shall soon be 'on his legs' again.
Ford County Journal, Volume 1, Number 8, 19 January 1860
Marriages. Bell-Travers. On the 9th of this month, by the Rev. W. H. McVay, Mr. Samuel Bell to Miss Louisa Travers, all of Ford Co., and State of Illinois.
Ford County Journal, Volume 1, Number 14, 1 March 1860
Agricultural Society Meeting
At a meeting of the citizens of Ford County, held in Paxton, Feb. 18th, 1860, for the purpose of taking preliminary steps for the organization of an Agricultural Society:
On motion, T. I. Tanner was called to the chair, and James Buck appointed Secretary.
D. S. Morse being called upon, proceeded to explain the law as regards the forming of such societies.
On motion, the following committee was appointed to draft a Constitution and By-Laws to be submitted to the Society at its next meeting: D. S. Morse, David Patton, R. R. Murdock, J. B. Buell, J. P. Button, Dr. Davis, J. R. Lewis, J. D. Ludlow, S. K. Marston, L. Pierpont, John P. Day, J. F. Hall, J. D. Hall, W. Swinford, L. L. Blain, A. H. Hanley, T. I. Tanner, James Buck, James Mix, W. H. Covalt, T. W. Buell, Howard Case, R. Hall.
B. F. Guy, of Champaign County; Samuel Virden, and Dr. Foster, of Iroquois County.
D. S. Morse offered the following, which was adopted.
Resolved, That seven of the above committee shall constitute a quorum.
James Mix offered the following, which was adopted:
That the proceedings of this meeting be published in the 'Ford County Jjournal,' also, that the editors be requested to furnish to each of said committee living in adjoin counties, the number of the said paper containing said proceedings.
Adjourned, to meet at Hanley's Hall, in Paxton, on the 17th of March.
T. I. Tanner, Chairman. James Buck, Sec'y.

Ads
James Mix & Co., Real Estate and Collecting Agents. …
Ford County Journal, Volume 1, Number 16, 15 March 1860
Sheriff's Sale.
… to make the mount of a certain judgment obtained against Dryden Donally, in favor of George W. Flanders, out of the lands, tenements, goods and chattels of the said Dryden Donally, I have levied upon the following property, … 28th day of February, 1860. Howard Case, Sheriff of Ford County Illinois.

Notice.
All persons are warned not to purchase of Edward Seymour, of Paxton, any lands or lots that he may claim title to, lying in Ford county Illinois, as the said lands and lots were purchased by him with funds belonging to the heirs of George W. Sherman, deceased, my former husband. 20 Feb, 1860. Susan Seymour, Guardian of said heirs.

Notice.
Notice is hereby given that after the publication of this notice for six weeks, application made to the commissioner of pensions for the issue of a Triplicate of Warrant, No. 31499, Act of March 3d, 1855, issued to John Odell, late a private in Captain Moore's company, in the 17th Regiment, commanded by General David Mead in the War with Great Britain, in 1812, the same having been lost and a caviat against its location entered in the General Land Office, dated March 1st 1860. E. N. McAlister, Att'y for John Odell March 8, 1860

Ads
New lumber yard! J. T. Bullard, … Yard, South end I. C. R. R. Switch. Office at Scott House, Paxton
Ford County Journal, Volume 1, Number 17, 22 March 1860
Business Cards.
L. B. Rarrar, M.D., physician and surgeon, Paxton
Samuel Day, Circuit Clerk & Recorder, Paxton
E. Andrews, dealer in groceries and provisions, Paxton
James A. Briggs, attorney and counselor at law, Paxton
J. B. Randolph, M. D., physician & surgeon, Paxton
J. T. Nicholson, painter, Paxton
Pells, Britt & Murdock, general land agents, Paxton
Coal! C. M. Oakley, Paxton
John Hanley & Son, dealers in lumber, Paxton
The City Hotel, P. D. Collins, proprietor, Paxton
Henry Barnhouse, dealer in dry goods, groceries, Paxton
Nathan Simons, Clerk of County Court, Paxton

Ads
Daniel S. Morse, agent for the Aetna & Illinois Mutual Fire Insurance Companies, Paxton
James W. Campbell, civil engineer & county surveyor, Paxton
James Mix & Co., real estate & collecting agents, Paxton
Daniel S. Morse, attorney and counselor at law, Paxton
Scott House, I. W. Shilling, proprietor, Paxton
Western World Insurance and Trust Company agent, D. S. Morse
Dry Goods … Henry Barnhouse
Notary Public, attorney & collector, Henry Barnhouse, Paxton
Barnhouse & Price, counselors at law, Paxton
Osier or Basket Willow at low rate of $1 per thousand, John L. Murdorck, Paxton
J. T. Bullard, wholesale and retail dealer in lumber, shingles, lath, timber, … Paxton

Chancery Notice.
State of Illinois, county of Ford. Of the May term, 1860, of the Ford county circuit court.
James C. Todd, vs. James Wittenmyer. In chancery.
Notice is herby given to said defendant, that said complainant has filed his bill of complaint in my office against him, and tha a summons has been issued therein, returnable to the next term of said court, to be held at Hanley's Hall in Paxton, on the fourth Monday of May 1869. Now unless you, the said defendant shall be and appear before said court on the return day of said summons, and plead, answer or demur to said bill of complaint, the same will be taken for confessed against you and a decree rendered accordingly. Sam'l L. Day, Circuit Clerk. Davis & Harmon, Att'ys.

Legal Notice.
State of Illinois, Ford county. ss. Ford circuit court of May term 1860.
Oliver P. S. Fee vs. John J. Derrough, Asher D. Derrough, Samuel A. Humphrey and William Giddings. Foreclosure of Mortgage.
… Samuel L. Day, Clerk. John M. Lesley, Solicitor.

Ford County.
The county court of Ford county has changed the name of Prospect City to that of Paxton, in honor of Sir Joseph Paxton. It is the county seat of the county of Ford, and is situated on the Ill. Cen. R. R. 103 miles south of Chicago, …
The county authorities of Ford county intend to erect a good substantial Court House of stone and brick, during the year 1860, one that will be an ornament and a credit to the county, and where the records of the county can be kept secure from fire.
Paxton is one of the best places we know of in the interior of Illinois to erect a Grist Mill, as there is no grist mill nearer than 28 miles east, and …
Ford county was organized in June 1859, under an act of legislature, approved Feb. 17th, 1859, and was separated from Vermilion county. …
Extracted 04 Feb 2018 by Norma Hass from Illinois Digital Newspaper Collections – Ford County Journal