BIOGRAPHY - WILLARD PROCTOR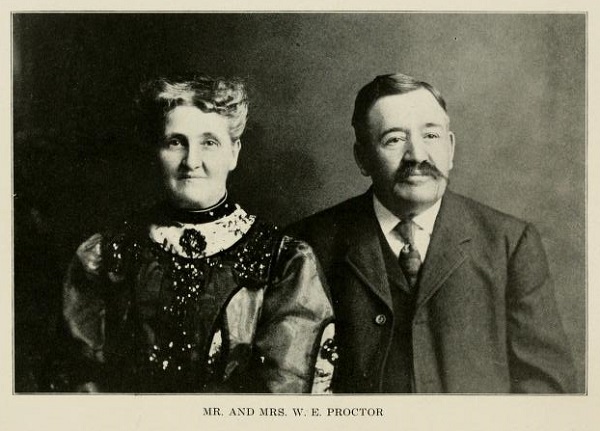 Willard E. Proctor, one of the most straight forward, energetic and successful business nnm of Gibson City, is a grain merchant who has long been associated with the business interests of Ford county. Along legitimate lines of trade he has worked his way upward and belongs to that class of representative men who in every community constitute the commercial strength of the locality. He is a son of Willard and Sarah A. (Hewitt) Proctor, of Rutland county, Vermont. The mother was a daughter of Jonathan and Esther (Doolittle) Hewitt, who were natives of Connecticut and of English descent. Her grandfather, Amos Hewitt, was one of the heroes of the Revolutionary war who valiantly fought for the independence of the colonies. The ancestry of the family can be traced back in England to the year 1461. Captain Willard Proctor, father of our subject, was a veteran of the late war and was born in Rutland county, Vermont, March 5, 1827, one of the eight children of Philip and Dorcas (Dimmick) Proctor.
The birth of Willard E. Proctor occurred October 13, 1854, at Wallingford, Connecticut, and when he was but six months old his parents removed to New Rutland, Illinois. He is indebted to the public-school system of the state for the greater part of his education, while his business training was received in a commercial college at Peoria. On putting aside his text-books he began working for his father in the grain business and later in connection with the dry-goods trade for three years. Removing to Proctor, Illinois, he settled on a farm and also carried on a grain business with gratifying success. He still continues in the grain trade, shipping to all parts of the country, and his annual purchases and sales are extensive. He has become known as a well known grain merchant of this portion of the state and in his business life shows keen discernment, sagacity and unwearied industry, qualities which constitute an excellent foundation upon which to build the superstructure of success. He and his wife own five hundred and twenty-five acres of rich and valuable land, which is devoted to general farming. The town of Proctor was named in his honor and there he maintained his residence until about 1905, when he removed to Gibson City, where he now makes his home superintending his business interests from this point.
On the 30th of November, 1876, Mr. Proctor was united in marriage to Miss Carrie N. Allen, a daughter of Dr. H. D. Allen, of Rutland, Illinois. They had one child, Florence Mae, who is now the wife of William Hellmick. The wife and mother died July 30, 1890, and in 1892 Mr. Proctor wedded Mrs. Ellen Farlin, the widow of Joseph Farlin, by whom she had two children: George Bruce, who married Miss Elva Fox and is now living in Proctor; and Clementina, the wife of E. R. Fraser, of Latty, Ohio.
Mr. and Mrs. Proctor hold membership in the First Methodist Episcopal church, are deeply interested in its work and cooperate heartily in an effort to promote its growth and extend its influence. Mr. Proctor is now serving as a member of its official board. He belongs to the Lotus Club and is a republican in politics, interested in the questions and issues of the day. He is now serving his second term as supervisor and was postmaster of Proctor for sixteen years. He is regarded as a public-spirited citizen, belonging to that class of representative American men who by promoting individual success also contribute to the public welfare. He adheres to high ideals in business, in citizenship and in social life and without invidious distinction may be termed one of the foremost residents of Gibson City.
Extracted 16 Oct 2016 by Norma Hass from History of Ford County, Illinois, From Its Earliest Settlement to 1908, author E. A. Gardner, Volume 2, pages 662-666.