BIOGRAPHY - LUMAN WILCOX
Luman B. Wilcox is an enterprising and successful agriculturist, who since 1868 has resided on his present farm on section 1. Lyman township. He came to Illinois from New York, his native state, his birth having occurred in Loraine township, Jefferson county, in April, 1840. His father, the Rev. Luman Wilcox, was a native of New Hampshire and married Elizabeth C. Bliss, who was born at Long Meadow, Connecticut. Both were representatives of old New England families. The father largely devoted his early life to work in the temperance and anti-slavery movements in the Empire state, lecturing extensively on those subjects throughout New York. He was a minister of the Congregational church and spent the greater part of his life in New York but in 1862 became a resident of La Salle county, Illinois, and about 1868 removed to Ford county, where he resided up to the time of his death on the 10th of January, 1872, when he was seventy-six years of age. His wife survived him for about four or five years, also passing away in Ford county.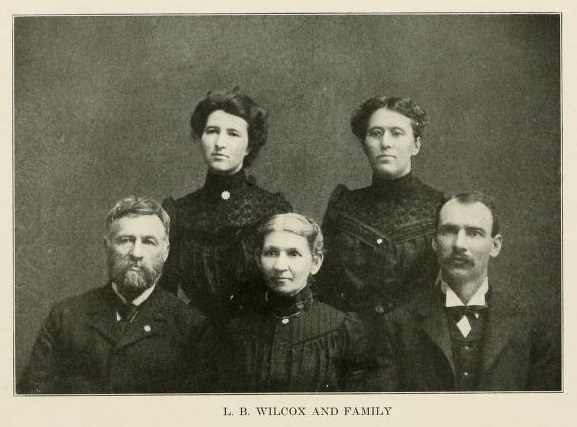 They had seven children: Samuel Mills, who died in La Salle county, Illinois; Henry Martin, now a resident of Onarga, who came to Ford county in 1868 and still owns a good farm of one hundred and sixty acres here, while he has sold one hundred and forty acres which he owned on section 1, Lyman township; Elizabeth C., the deceased wife of S. H. Penney; George Whitfield, living in Jefferson, Iowa; William W., now of Prairie City, Iowa, who came to Ford county in 1868, as did his brothers, George and Henry; Luman B., of this review; and Mary M., who died while a student in Onarga.
Luman B. Wilcox spent the period of his minority in the Empire state and in the spring of 1861 went to La Salle county, Illinois, where he joined his brother. In August, 1862, in response to the country's need, he enlisted from La Salle county as a member of Company C, Seventh Illinois Volunteer Cavalry, under Captain Bartlett. He participated in the battle of Nashville, the Grierson raid and the battle of Franklin, his services being mostly against Forrest in Tennessee. He was at the front for three years, doing a soldier's full duty in defense of the stars and stripes, and was mustered out in August, 1865. He then returned to La Salle county, where he lived until the spring of 1868, when he came to Ford county and settled upon his present farm of one hundred and sixty acres on section 1, Lyman township. It was largely unbroken prairie, for which he paid ten dollars per acre. Today it is well cultivated property and the improvements have all been made by Mr. Wilcox. He and his son each have a good dwelling on the place and there are good outbuildings providing ample shelter for grain and stock. He conducted the place as a dairy farm for four or five years. In 1884 he went to South Dakota, where he owned a half section, but later sold that property and returned to the old homestead farm, which is now devoted to the raising of grain and stock. He makes a special feature of Percheron draft horses and this branch of his business is proving profitable.
While living in South Dakota Mr. Wilcox assisted in organizing the populist party in that state and was a candidate in his district for the legislature. He is now a supporter of William Jennings Bryan, but does not take a very active part in politics here. He was also a member of the Grand Army of the Republic in South Dakota but there is no post in Roberts.
It was in the spring of 1868 that Mr. Wilcox led to the marriage altar Miss Ida B. Norton, who was born in Genesee county, New York, August 18, 1846, and was there reared and married, being brought to Illinois as a bride. Her parents were Herman and Laura (Brown) Norton, also natives of the Empire state. Mr. and Mrs. Wilcox have become the parents of two sons and two daughters. Ernest Norton, who assists his father in operating the home farm, married Emily Sprague and has two children, Dorothy and Ida C. Alice is the wife of Harold Remsburg and they reside with her father. Lloyd died at the age of six years; Elizabeth C., completes the family.
When Mr. Wilcox made his way to the middle west from New York he had very limited capital but he possessed strong purpose and resolute will and these qualities have enabled him to work his way steadily upward until he is now numbered among the successful agriculturists of his community. He is, moreover, a citizen of worth, giving loyal support to many measures for the public good and his influence is always found on the side of general advancement and improvement.
Extracted 16 Oct 2016 by Norma Hass from History of Ford County, Illinois, From Its Earliest Settlement to 1908, author E. A. Gardner, Volume 2, pages 564-568.