History of Piper City
PERSONAL GLIMPSES

There have been many people living in Piper City during the last 100 years who were outstanding or interesting for one reason or another. We cannot mention them all, but here are a few personal glimpses.
JOHN CULVER
One of the earliest druggists was John C. Culver, who was here in the 1870's after he had ridden the pony express from Fort Wallis to Denver, served as an Indian Scout and had been chief scout for William F. Cody, or "Buffalo Bill", as he was called. In 1880 John went into the grain business for a time and was also an early Ford County coroner.
FRANK WALRICH
Captain Frank O. Walrich was a general merchant in Piper City, after having served in the Civil War. He was in charge of the prisoners at Fort Donelson and also took part in Sherman's campaign. Captain Walrich was drill sergeant for Company C, a section of the militia that met regularly for drill in Piper City from after the Civil War until after 1900. Mr. Walrich replaced William C. Baughman, who moved from Piper City to Kansas.
1880 MILLER
One Piper Cityan was written up in "Ripley's Believe It or Not" because of her unusual name. 1880 Miller was the daughter of Mr. and Mrs. R. B. Miller. The family lived in the north part of town and Mr. Miller operated a corn sheller and other machinery. 1880 attended the local grade school until the family moved away. She was called "Eighty."
BOB WOLSEY
Bob Wolsey was a musician of some note; a harmonica player and clog dancer. His greatest accomplishment was playing the "bones" and in the 1920's no public gathering was complete without a few numbers by Mr. Wolsey.
JOHN THOMISON
John Thomison grew up on a farm just north of town, but he could hardly wait to become a balloonist. He was a great admirer of Ben Anderson of Ashkum and when he was only 10 or 12 he rode his bicycle all the way to Watseka to begin his career as a balloonist. He came back to his old home town many times, later on, to appear as the featured attraction in the regular balloon ascensions that highlighted almost every fair or celebration.

About 10 years ago he made his final ascension to mark the 50th anniversary of his start in the business. Unfortunately he did not get off to a good start and drifted into some wires and the ride was soon over. He was one of Piper City's sons who had a long and successful career in a job that he loved.
AL KOESTNER — BIG TIME BALL PLAYER

Piper City has had several athletes who have stood out as "memorable", the most noteworthy of whom is Al Koestner. He was the small town boy who made good playing in the big leagues. He was the idol of every small boy and even many of the big boys.

He pitched for teams around Piper City where he was undisputed champion on the pitcher's mound. No one in these parts could match him or even come close. This was in a day when young men loved to play ball for recreation, and one team that had uniforms and played a regular schedule with neighboring towns, was the Hills Indians. Sand Ridge also had a team, the Swamp Angels, managed for years by Frank (Spec) Lyons. Whoever had Al for their pitcher was usually the winner.

Al kept going up higher in the leagues until he was earning as much as $400 a month and expenses. For his day and age (about 1910-11-12) this was a huge sum considering that farm hands were paid 20 a month plus board and room.

Al first pitched successfully for Los Angeles, When he was brought up to the Cub's organization in Chicago. He pitched several games for the Cubs and was later traded to Cincinnati.

After he retired from baseball he came back to Piper City, where in the 1930's he ran a pool hall and sometimes on Sunday he earned some extra money pitching for a team that needed the serices of an ex-professional.

More recently Doug Harford gained considerable recognition for playing varsity football at the University of Illinois. Harvard (Bud) Johnson played football at Bradley University at Peoria and David Keefe was starred as a pitcher at Illinois Wesleyan at Bloomington.

Don, Ted and Dave Read all pitched for college teams.
NELS PLANK, AUCTIONEER
Not everyone has the gift of gab necessary to be an auctioneer, but G. P. (Nels) Plank was one of those rare souls. He was a distinguished looking man with shaggy hair, heavy eyebrows and a flowing mustache. Erect of bearing, he carried with him an air of authority.

There was no one better with words when it came to a farm sale or auctioneering off a yard filled with household items. His words ran together in a singing chant that fascinated all listeners and brought quick results. He was called "Colonel" after the custom of the day.

He was also a justice of the peace, performing marriages and hearing trials of a small nature that would come up in a small town.
D. A. KLOETHE, MERCHANT
D. A. Kloethe was a Piper City merchant in the early 1900's who is best remembered for his "fire sales" and "line rings."

He himself had several fires and whenever there was a fire in a nearby town, or even at quite a distance, Mr. Kloethe would often buy out the stock and have a fire sale where people drove for miles to get the bargains.

The line ring was given whenever fresh raspberries arrived for canning or if something came in that he wanted all farm ladies to know about.

The operator, who was called "central" in those days, rang a series of long and short rings so that everyone knew that they were to listen in on the message. When the operator had heard several clicks signifying that several receivers had been lifted off the hooks and that everyone on the line was listening she would deliver a message somewhat like this:

"A shipment of Michigan raspberries has just arrived at D. A. Kloethe's. Red raspberries $2.75 a case, and black raspberries for $1.75. There will e no more until next Friday". For this service Mr. Kloethe paid the operator a small sum and it was a cheap and effective way of advertising.
LAW ENFORCEMENT
Many have been called upon to enforce the law in Piper City. Sometimes the high spirited farm hands got ahold of some bottled spirits and would have to be locked up over night and fined.

There was a small "calaboose" down about where the entrance to the junk yard is today and it was not unlikely for it to have one or more occupants almost every weekend.

Jess Barnstable was the village magistrate or Constable about 1910-11 and 12. He was a tall, lean lan with a friendly smile that didn't always seem to go with his job.

He was the first police officer in Piper City to order a uniform from Sears, Roebuck & Co. Others had worn everyday work clothes and there was nothing to distinguish them from any other citizen except the star they pinned to their vest.

Not so with Jess. He dressed up in his uniform, all spick and span, and wore it proudly and well, especially Saturday nights when Main Street was crowded. He would stroll quietly around the square, quieting down rowdy young fellows, settling disputes, and always took time to visit with friends. He was always friendly, but strict, and was treated with respect.

Once he gave a leading citizen a summons for driving his car up town without lights after the sun had gone down, which was forbidden by a city ordinance. Jess enforced the ordinance even though the leading citizen was furious. A small fine was paid.

Fred (Mickey) Kemnetz, who retired July 1, 1969, has been the village constable off and on or over 30 years. Weighing over 200 pounds, his size and strength have helped him "speak with authority."

One of the most exciting happenings during his career was the time the escaped robbers of the Buckley Bank stalled their car four miles south and east of town and fled into a corn field. One of the robbers had been injured in a gun battle at Buckley. This happened in July of 1931.

It was not long until all the law enforcement agencies of the area were represented here, but since Mick was on the spot he organized the local men and they armed themselves with whatever weapons they had and proceeded to the abandoned car and branched out from there.

Someone circled the field in an airplane in hopes of sighting the fugitives.

They finally felt reasonably sure that the bandits were in a small crib a half mile south of Alva Mylcraine's and taking cover as best they could the men pretty well surrounded the crib and ordered the robbers out.

The story is told that after the desperadoes were ordered out that Mick called to a companion to "turn that machine gun on 'em." The companion, not used to playing cops and robbers asked, 'What machine gun?"

Perhaps it was fortunate that the wounded man was needing the attention of a doctor and the men soon gave themselves up and were taken into Piper City where the wounded man was treated and both were placed in the village jail, one of the last, if not the last time it has ever been used.

People simply poured into Piper City to get a look at these men and men, women and children filed by the jail and peered in through the bars to see what manner of men these were, anyway.
THE GENERAL STORE
There have been several outstanding "merchandisers" in the history of our town. One of the most interesting merchants around 1910 was W. H. (Bill) Roberts, who operated one of the finest and largest department stores in Central Illinois. He had clothing, shoes, dry goods and groceries all under one roof — everything the family needed to feed and clothe them. This was in the days before the family had been "let out by the auto and the world let in by radio." Shopping was all done at home in local stores.

Roberts' store was the first in a small town to install a system of overhead trolleys to carry baskets filled with the items purchased to a balcony where it was checked and wrapped. This was quite a spectable and no doubt many items were purchased just to see the conveyor work.

Bill was a bachelor and lived in the hotel at the west end of Peoria Ave. which was run by the Schuylers at that time.

Bill cut a fancy figure riding around the country in his red Rambler and made many hearts flutter, but he remained single and after he sold his store he worked by the hour as a carpenter.
MANY VETERANS HAVE LIVED HERE
Many have served their country from this community in the little over a century since the first settlers came. There is no evidence that any went directly from here to the Civil War, but many veterans settled here afterwards and for many years there was an active unit of the Grand Army of the Republic.

James McBride, who was active in civic affairs and president of the fair board, was a Civil War veteran who marched in Grand Review before President Abraham Lincoln in Washington, D. C, before being mustered out of the Union Army. He was a large landowner and a director of the First National Bank.

Another young man who passed in review before President Lincoln, and later settled here, was William M. Dick, grandfather of Mrs. John Ark. A colorful figure, he ran away from home in Niles, Mich, when he was 16 and joined the Union Army.

He served under McClellan, Burnsides, Grant and Sherman. He fought in the battles of South Mountain, Antietam, Fredericksburg, and took part in the siege of Vicksburg and of Knoxville.

At the close of the war, he returned to Niles and shortly thereafter came to Ford County. He had read in the Chicago Tribune that land was for sale in this area very cheap. He bought land northeast of Piper City, and he and his wife, the former Sophronia McLain, lived on the farm several years before moving to Piper City. He sold the farm to the Anderson family, who still own it.

In 1930 the American Legion Gibb Post No. 588 honored him with a banquet, he being the only remaining Civil War veteran in Piper City. He died Nov. 21, 1933.

John C. Wilson, who has many descendants in Piper City, but few by the name of Wilson, died in 1922 and was one of the last of the "old soldiers." There were many others.
WORLD WAR I
Many of Piper City's sons went off to war in 1916 when the United States joined the Allies in fighting Germany to "Make the World Safe for Democracy." One of the first to go and also one of the first to get back was T. E. Jeffries, and there were many who followed him. The only one who didn't return was Waiter Gibb, who used to play basketball on the Mogul team and was well known throughout the area. Gibb Post of the American Legion was named for him.
MISS ANDREWS GOES TO ENGLAND
Miss Agnes Andrews caught the imagination of the townspeople when she went into full time overseas work for the Young Men's Christian Association. Her jobs were varied and one of them was to sell cocoa, tea and cakes to the servicemen. She traveled in England and on the Continent. The Piper City Journal carried long letters she wrote back to the townspeople telling of her adventures in a strange land.

She was overseas after the signing of the Armistice and as the American boys were being mustered back to the United States. In England she attended the first Grand National held after the war and it no doubt was impressive to a Midwesterner to see the horses jump the hurdles and hedges in the big race.

She also attended the big Peace Parade in London with General Pershing leading the parade, followed by a large band and troops of hand picked soldiers in full dress uniforms from all the allied countries. There were caterpillar tanks and guns and, all in all, it was very impressive. Miss Agnes wrote back to Piper City friends, "The U. S. men were the best looking in the whole parade."
ARMISTICE SIGNED
The end of World War I came with the signing of the Armistice on November 11, 1918. This news had been looked for for several days and even weeks, and when it came everyone everywhere celebrated wildly.

In Piper City, Mayor Sowers announced early in the day the expected signing of the armistice terms by the German envoys, and said the celebration proper would begin at four o'clock in Piper City, giving the school children and the country people a chance to get in and join.

At four o'clock everyone had turned out and was armed with whistles, bells, pans and "clackers." Automobile horns were kept going, whistles were blown, bells rung, guns fired and anvils struck — in fact about anything that would make a noise was brought into use.

A parade was formed, headed by the Piper City Cornet Band and marched through the streets and many times around the "square." A feature of the parade was a casket for the Kaiser hauled on Bob Melvin's big truck and upon which were seated a number of young ladies representing their friends or sweethearts "Over There." After the parade an effigy of the Kaiser was dragged through the streets trailing an automobile.

With a short intermission for supper the celebration continued. The band played several numbers, the Kaiser was burned in effigy in the Railroad Park, after which a huge bonfire was built and the band, followed by hundreds of men, women and children, circled around it while hundreds of others kept up an incessant noise, blowing horns or whistles. About nine o'clock the festivities began to subside and people started to leave for their homes, but still jubilantly happy over the termination of the great struggle which had caused so much bloodshed and anguish in the world.

Alfred Montelius, who was a small boy at the time, got a bullet in his shoulder from the gun of a happy celebrant, so the day, though a joyous one, was not without its mishap. Fortunately Aired was not seriously hurt.

Again when World War II broke out, there was hardly a young man left to carry on the work of the farms and businesses and many went overseas to serve in the long hard struggle that ended in 1945. This time Piper City was not so lucky. James Boma, William Williams, and James Delap never returned. There were others who were close to Piper Cityans who died in service. It was a time of great strain and sadness and when peace finally came the victory celebrations were mild in comparison to the frenzied reaction at the end of World War I.
TELEPHONE COMPANY
In the early 1900's, Piper City, like many other towns and villages, began to get organized for telephone service and through the efforts of John A. Montelius, Jr., Page Glass, J. A. Cooke and others the Piper City Telephone Company was formed.

The first operator worked night and day and although she may not have handled many calls, the pay was small and the work confining.

For many years Miss Anna Hancock was the night operator. About that time the operators received just 10c an hour.

The office was in the corner of what was then the First National Bank building or where the State Bank is now located.

Early linemen and trouble shooters for the company were J. C. Lampkin, James Steadman, John Drilling and John (Pinky) Boyle. Mrs. Boyle was also an operator and secretary of the company for many years.

Laura Moore Wilson was another early operator. Miss Esther Moore was a chief operator for many years, following Miss Inez McClain. At the time, in 1963, that the telephone company went to dial service, Mrs. L. A. Reynolds was the chief operator.

The telephone service has been under three companies. The Illinois Commercial Telephone Company bought out the privately owned original company and later the General Telephone Company bought them out.

There is hardly a home in Piper City without a telephone and every business probably makes several long distance calls every week. Several have talked to loved ones in service half way around the world and have been able to hear and to be heard very well.

A far cry from the contrary instrument of the early days that tried men's patience and cowed many a man into asking his wife to talk over the "thing" when an important matter came up. His wife would fearlessly (almost) engage the monster while he stood beside her and told her what to say.

Women took to the telephone with more enhusiasm than did the men. They soon learned that here was an excellent way to break the monotony of the long days and also to organize club meetings and to do all kinds of planning and promoting.
EARLY FARM STYLE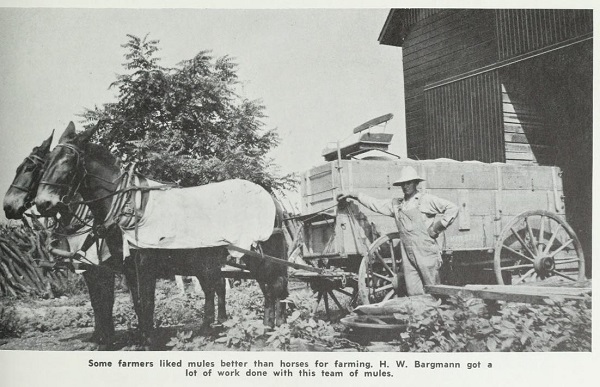 One of the big delights for country kids was the day when the threshing machine moved into the yard for a few days of threshing.

The big steam engines belched black smoke from the smoke stack and as it came slowly up the road pulling its separator and water tank, it was a sight to thrill young and old.

Threshing was not only a time of harvest, it was also a time of feasting. All farmers had their threshing ring. This meant that each man in the ring helped every other man and if he had more oats than the others, he furnished an extra hired hand.

The men all ate at the place where they were working that day and every meal was a banquet. Farm wives "laid themselves out" to set a good table. There was usually two kinds of meat, mashed potatoes and gravy, corn on the cob, sliced tomatoes, salads of all kinds and a choice of pie and cake.

The combines that began to automate the harvests in the 1930's brought an end to the era of the threshing ring where neighbor helped neighbor and women helped each other in minding the children and doing the cooking.
GRAIN AND CHAFF
A barn raising was another community effort that was once common and is gone today. When a man got ready to build a barn and many of the farmers built them big in order to hold lots of livestock, they got the lumber on hand, then sent for all the farmers in the area to come with their hammers and help build it. Huge barns were built in almost no time as many hands made a quick job of it.

When the barn was built and before the livestock was put in, they would have a barn dance and everybody that helped would come back for an evening of dancing and gaiety. The music was furnished by several fiddlers and someone who could chord on an organ or piano. Wilbur Gourley was one of the most popular callers for square dancing and many are the "do sa dos" and "allemande lefts" he has called in his time.

Another harvest custom was that you should have oyster stew for supper on the night you finished shucking corn. It was a treat that was looked forward to and no one ever weakened and had it before the harvest was finished, either.
OUR FOUNDERS
A book in itself could be written about the founders of our town and their descendants, some of whom still live here, but we will have to satisfy ourselves with a brief review.

Dr. William A. Piper, for whom Piper City was named, has been somewhat a figure of mystery, without very much known about him. I am indebted to Mrs. Robert Chambers, Sr., who through family research has supplied us with a short biography. She is the granddaughter of John A. Montelius, Sr., nephew and close associate in the early days of Dr. Piper.

Dr. Piper was born March 5, 1820, in Miiton, Pennsylvania, the son of Frederick A. and Mary Cubberly Piper. He died July 6, 1896 in Philadelphia. He is buried in Laurel Cemetery nearby.

He married Mary Bibighaus, a daughter of Rev. and Mrs. Henry Bibighaus, December 21, 1844. They had two daughters and a son: Elizabeth, 18451876; Milton A., born 1847, and Emma Louise, born 1847.

Elizabeth married J. D. S. Gast, a brother of Mrs. John Montelius, Sr.

Two sisters of Dr. Piper married Piper City men and figured in Piper City history. Rebecca, born August 14, 1816, married Charles Montelius, February 16, 1841. Their children were William Piper Montelius, 1841-1865; John Augustus Montelius, 1844-1920, and Harry Gast Montelius, 18581900. Rebecca died May 1, 1866.

Another sister, Maria Louise, married James Madden. Their daughter, Rebecca married Nels Plank. Their children were Laura, who married Elmer Lansdale (daughter, Mildred); Rebecca (Reba) married Lester Sowers (daughter Margaret); Esther married Phil Scott (son John and daughter Edna).

It seems clear that although the town was named for Dr. Piper, he never lived here. He did have large land holdings and he made large investments of capital in the early businesses with his nephew, John A. Montelius, Sr.

There was a Dr. Richard J. Piper, who practiced medicine here for several years. He left in the 1880's and some who have heard about him believed him to be the Dr. Piper for whom the town was named.
JOHN A. MONTELIUS, SR.
The town owes much to John A. Montelius, Sr., whose business acumen and ability made him one of the founding fathers to be highly respected and remembered.

He came to Piper City after the Civil War in which he served, even though at first rejected because of his small stature. He came with only $1200, but built a large fortune in land and other assets.

He was engaged in the grain business, in banking, in the general store, in lumber and many other businesses and made a success of every venture. He and Dr. Piper were often partners and it is supposed that Dr. Piper put up much of the money in the early days and Mr. Montelius supplied the management skill. He came to Illinois originally to look after the large land interests of his uncle.

He went back to his home in Mifflinburg, Pennsylvania, to marry his childhood sweetheart, Katharine Gast. When they arrived in Piper City in 1867 there were just five houses. They at first lived in a house owned by Dr. Piper that later was known as the Culbertson house. They built their fine home in 1871 which is known today as Montelius Manor.

Descendents of Mr. Montelius living here are Alfred and Miss Ruth Montelius, Mrs. Robert Chambers, Sr., Mrs. Edwin Read and her children.
HIAWATHA DAVIS
Mrs. J. J. Lyons' grandfather, Hiawatha Davis, was brought here at the age of nine months by his parents, Joseph and Rebecca Davis. They came from Ohio in a covered wagon in 1858. Settling between what is now Piper City and Chatsworth, their nearest neighbors were the L. T. Bishops and Franklin Oliver.

On the night of the terrible train wreck in 1887 survivors made their way to the Davis home where many lanterns lighted up the yard for a summer party. The wounded were cared for in the home and a baby was left there for some time after the wreck.
DANIEL MARBLE
Daniel Marble met an untimely and tragic death in 1869, when he drowned while trying to ford the Vermilion River. He was just 36 and left three daughters. Mr. Marble probably has more descendents in this area than any other early settler. His daughters were Malvina Read (Aunt Viney), Grace Perkins and Nettie Serene.

George Perry and Mrs. Margaret Brown are descended from two pioneers, Archibald McKinney and William Corey.

Robert Wells, great grandfather of Duane White, settled north of Piper City.

Rebecca and Robert Chayer are living on the same farm settled by their great, great grandfather, Robert Hevener.

Notice should be taken of the Read boys who moved onto land north and east of town. The 1884 atlas names five — Charles, Arby, Thomas, Butler and Ed. There are still Reads farming land originally farmed by these so-called boys.

Thomas Cue, a native of England, came to America in 1853, settling in . Woodford County. He moved to Brenton Township in 1870. His descendents include the Wayne and Dean Jensen families.

Debbie Kane, 12 year old daughter of Mr. and Mrs. William Kane, is the fifth generation of her family to live on the same farm. Some of the original house from her ancestor, W. Gardner, is still in the present home.

Leslie and Greg Herriott are the fifth generation from Mr. and Mrs. Samuel Clark, who moved here in 1890. At one time Mr. and Mrs. Herriott, Greg and Leslie, lived on the family homestead, which is now occupied by Mr. and Mrs. Gene Froelich and family, in Section 22 in Brenton Township. This is especially interesting because this is the section to which John R. Lewis first came.

The Ronald Cook family is descended from at least two early pioneers. Ronald's great grandfather on his mother's side was L. T. Bishop, who came here in 1857. E. E. Bishop, son of L. T., married Dora Carpenter, who was the daughter of H. S. Carpenter, who came here in 1867.
J. A. COOKE, HARNESS MAKER
J. A. Cooke, who came here from Pennsylvania, was one of the leading pioneers. He was a skilled craftsman in harness making and his business was as important to the early settlers as the implement shop is to modern farmers.

A fine team of horses was no stronger than its harness and the farmers had confidence in Mr. Cooke's work. A few families still treasure a bit of harness that Mr. Cooke made in his shop for their forebears so long ago.

Mr. and Mrs. Cooke were both prominent in civic and church affairs and both served on the school board.

They had two children, Delmar and Geraldine. Dr. Delmar Cooke came back to the Cooke ancestral home in Piper City after his retirement as a professor of English at the University of Texas. Miss Geraldine is an accomplished musician and photographer in New York City and spends quite a little time here with her brother.

Dr. Cooke is Piper City's only author, having written, "William Dean Howells" in 1922. The book is a critical study of the life and works of Mr. Howells.

Joseph Miller worked for Mr. Cooke in the harness shop and later bought him out. As tractors replaced horses the shop was converted into a shoe repair shop in the 1930's and now stands empty on Main Street.
JUDGE H. P. BEACH
Judge H. P. Beach has no descendents living here, and perhaps none at all, but he was one of the most interesting and influential of the pioneers. He served in the Civil War and was a strong opponent to slavery. For more than four and a half years he served continously, in both the infantry and heavy artillery. He served successively in about all positions from private to commander of his company. He participated in some of the most important military operations of the Mississippi valley, under Grant, Sherman, Sheridan, Banks, McClerndand, and others.

While in service he raised $715.30 for the Lincoln monument at Springfield, and received a personal letter of acknowledgment from Governor Oglesby.

Judge Beach's grandmother was Mary Tomkins, a near relative of Daniel D. Tomkins, who was prominent in the early history of our country, one time governor of New York and vice president for eight years under James Monroe.

Judge Beach and his young southern bride came to Piper City following the Civil War and he resumed the study of law which had been interrupted by his service years. He was admitted to the bar in 1870, and for three years, was engaged in private practice. In 1873 he was elected to the County Board of Supervisors and in later years was elected County Judge for three years.

He was considered one of the best orators in Eastern Illinois and did much political speaking and campaigning. He was editor and publisher of the Pan Handle Advocate, a weekly newspaper. It is a matter of concern to some people that Beach Street, which was named after Judge Beach, has somehow by the year 1969 got changed to Beech Street, as though it were named for the tree. This one mark of respect given the Judge by the early townspeople has almost been erased except for old maps and records. Done, no doubt, through error and without malice.
BI-COUNTY
Bi-County was a thriving little community that flourished in pioneer days and then died out more than 50 years ago. It was located in the Sand Ridge area. It was said you could buy anything from pins to a threshing machine at Bi-County.

Everything was hauled in by wagon, even the mail which came from La Hogue. Albert Lamb, father of Elmer Lamb, was the first mail carrier and fixed up a one-horse cart so that he could carry the mail bags.

Joe Bagley and E. E. Plummer drove a huckster wagon around through the country with supplies from the general store. There was also a blacksmith shop.

There were lots of young hired hands working on the farms in this area and they had a baseball team called the Bi-County Red Sox. Al Koestner used to pitch for them sometimes when he was just starting out.

Saturday night in Bi-County was always a big night as many of the men preferred to gather there than in Piper City where it was "dry." These men worked hard and liked to blow off steam on Saturday night.

Will DeMoure, uncle of Ralph DeMoure, ran the general store for many years.
PIPER CITY HAS MANY CLUBS
There are many clubs and civic organizations thriving in Piper City, some of which go far back into history. Piper Lodge 608 AF & AM is the oldest organization. It received its charter October 1, 1868. The first master of the lodge was Wilson Ong. There are six living 50-year members. They are Victor Pearson, John Boyle, R. C. DeMoure, J. J. Lyons, George Perry and Otis Kirkham.

Piper Order of Eastern Star Chapter 578 was chartered November 12, 1906 and they have eight living 50-year members, Mrs. Margaret Brown, Mrs. J. W. Hickerson, Mrs. Mae Rohrbach, Mrs. R. E. Squires, Mrs. Jean Leiser Scott, Mrs. Jean Burger and Mr. and Mrs. Otis Kirkham. The first worthy patron and worthy matron were George Montelius and Mrs. Mae Long.

In 1900 there were the Modern Woodmen of America, Odd Fellows, Forresters, Royal Circle and the Grand Army of the Republic, all of which are gone.
MONDAY NIGHT CIRCLE
The first social club was the Monday Night Circle organized October 4, 1899 with ten charter members. Miss Clara Bishop, daughter of E. E. Bishop and granddaughter of L. T. Bishop, was one of the charter members. She was graduated from Normal University, Normal and had come back to teach Algebra, Physiology and Physical Geography, the first that these subjects had been taught here.

She missed the stimulation of study and the joy of shared knowledge so prevailed on some of her friends to start a study club. The first year they ambitiously covered the vast continent of Russia and for many years followed a prescribed study course.

The club is still active, but is now a social group, interested in literature and topics of interest. Mrs. John Lyons is president of the club in 1969.

One of the club's major contributions to the town is the founding of the library in 1927 which later became tax supported. The club still contributes to the library and often has a coffee hour to raise money for its benefit.
MOUNT MELLICK CLUB
The Mount Mellick Club was started in 1903 and was primarily a needlework club. When Mrs. S. M. Erskine visited Scotland, she saw some beautiful embroidery originating on Mount Mellick. After she arrived home she started a club with 13 members.

In order to belong to the club, each member had to make a piece of work and show the others how to do it. They turned out some very fancy stitches.

Piper City Camp of Royal Neighbors of America was instituted May 25, 1908. Mrs. Mary E. Carr of Piper City is one of the 25 charter members who is still living here.
SERVICE CLUBS
Piper City has two service clubs which are very active and have done much for the betterment of the community.

On April 6, 1939, 18 leading business and professional men affiliated with Rotary International and established the first service club in Piper City. Some of the worthwhile organizations the Piper City Rotary has backed and helped to develop are the Parent-Teacher Association, the Community Betterment Club which is now called the Council For Progress, the Fire Protection District, the Piper City Locker Association, the Piper City Fair Association (which sponsored the Horse Show for many years), the Home Guarantee and Loan Association and the Pella-Brenton United Charities.

This year the Rotary has an exchange student, Helen Ford, from Australia who has attended the high school here.

Another student, Mesfin Mariam, of Ethiopia came to Piper City under the American Field Service plan and stayed with Mr. and Mrs. H. A. Mcintosh for the school year of 1965-66.

Helen Ford has visited the Everett Thorndyke family and is now staying with the J. D. Somers. She may visit other families before returning home next January.

The Lions Club received its charter from Lions International on January 24, 1956 and has been very active in raising funds for the community in its 13-year history.

It has put up street signs, trash receptacles, and marked parking spaces on the main streets. Members have helped in erecting the park pavilion, have conducted auto safety checks, have had several community sales and sponsored the Little League baseball. It also helped with the Council For Progress.

The Home Extension Clubs are popular with Piper City women. They were at one time called Home Bureau Units. The Pella Home Bureau Unit met for the first time with Mrs. Howard Stuckey in 1928. This unit sponsored the first 4-H Clubs, and through their efforts the first hot lunch programs were served at the Piper City school.

The Brenton Home Bureau Unit was established October 7, 1936. The first president was Mrs. Clair Bishop. There is still a Brenton Home Extension Club and there is a Modern Mrs. Home Extension Club.

The 4-H Clubs and the Scouting program for both boys and girls are flourishing in Piper City.

Some clubs have come and gone and some that have gone are the Senior and Junior Woman's Clubs, the Ever Ready Club and the Parent-Teacher Association.
"NOW GENERATION"
As we come to the conclusion of our account of past events and move into the present, trying to keep abreast of the "Now Generation" we cannot foresee the future for our town or for our citizens. The land is filled with great hope and great despair.

We can only savor the good of the past and work toward a future here that seems to be filled now with a bright promise.

This is a history, not of one person or of one family, but of a community that has learned to live in relative harmony with love and support for each other. Could we ask more for the future?
Extracted 12 Oct 2016 by Norma Hass